Lázár Vendégház

Southern Transdanubia

---



type:
rural accommodation
address:
Lázár Vendégház
7678 Kovácsszénája
Fő u. 29.
open:
Apr 1. - Oct 30.
telephone:
06 30 5688-654
06 30 6370-543
houseroom:
2 room (8 bed)
informative prices:
3500 HUF / person without board
IFA: 100 HUF / person / night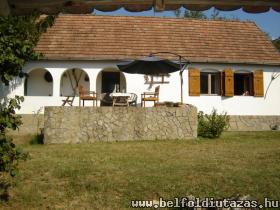 Lázár Vendégház paraméterei:
Spoken languages: Hungarian, German
Room, suite equippment: TV, radio
Local services and opportunities: toilette / WC, shower / bath-tub, self-supplying, kitchen, stove, microwave oven, refrigerator, car park, garden, yard stove, pool
Region services and opportunities: restaurant, horse riding, hunting, fishing, touring, forest/park, shore
Útvonaltervező
Fotók a régióból

Somogyvámos-ny 3.5km

Somogyvámos, Krisna-völgy
Töltsd fel te is fotóidat!